The Curse Of Camp Cold Lake (Goosebumps series) by R.L Stine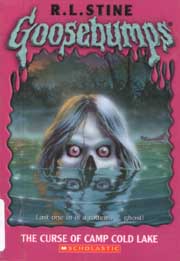 Sarah is going to Camp Cold Lake but she hates to swim... well she likes to swim just not everyday and she likes to swim in clean pools not yucky dirty lakes,but she has to go there anyway. When she gets there she isn't doing very well already she walks into there and there are three girls they don't get along with they are making fun of her the whole time. Sarah thinks of something she thinks that she should pretend to drowned and when she does it she actually does do it she drowned.When she does drowned at first she saw two yellow lights and it was cold really cold. After that she saw her self on shore and the trees were bare and it was even colder. She ran to her cabin but it was locked. She heard singing very soft singing when she saw who was singing she asked who she was the person said that her name was Della and she kept on asking to be her buddy because they always need buddys when you swim in the lake. She ran she kept running then she found her self breathing and was on the shore again and saw everyone crowding her after some time she keeps on seeing Della then she would dissapear but then after that Sarah is through she runs to her cabbin gets a T-shirt on and runs to the forest and runs. Della appears and tells her why she keeps on showing up. Will Sarah live?
What I like about this book and series is I like to scare my self with these books and trust me you will probably get scared too.
Labels: book review, goosebumps, r l stine