Alexander and the Terrible, Horrible,No Good, Very Bad Day, by Judith Viorst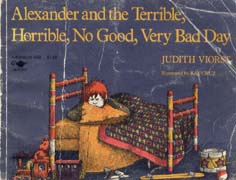 Alexander is having the worst day of his life, from waking up with gum in his hair to eating Lima beans for supper and kissing on T.V. Will he through the day without getting in trouble?
What I like about the book is that I have bad days just like him (just not as bad as he did).What I don't like about the book is that when he tells hes family that he is having a horrible day they just ignore him and would you like it if that happend to you?
Labels: Alexander, book review, judith viorst