Welcome to Dead House, by R.L. Stine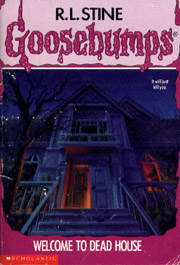 Amanda and Josh don't like there new house it looked like a mansion compared to their old house but still they didn't like it at all.When they looked at it everything was dead even the leaves even though it was in the middle of July,the flower bed was dead and the shutters were black and the house was gray,but it was very big and looked creepy.Josh and Amanda still didn't like it that much. Especially Josh he didn't want to see it on the first day,but Amanda did she was getting excited at first when she saw her room it was big and had it's own bathroom inside it and a little window bench so she could look at the street. But that's when it got creepy,she saw a boy with blond hair,then she looked again and it was gone.Then they started to make friends,weird friends,whenever Josh and Amanda asked where they live they always said "Your house". That was kind of creepy then that's when their dog ,Petey,ran into the graveyard and Josh and Amanda went after him and that's when the secret was revealed...
What I like about this book is the confusion,excitement,and the fear all at once because with the confusion I had to go back and reread some of the book to get what was happening.
Labels: book review, goosebumps, r l stine, welcome to the dead house