The Werewolf of Fever Swamp by R.L Stine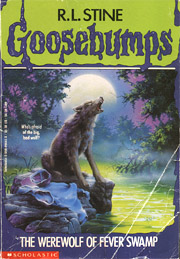 Grady and his family moved to Florida during Christmas Vacation in the middle of a swamp. Every night Grady keeps on hearing the angry howls coming from a dog in the night.His father has six swamp reindeer and one of them dies and everyone thinks it's Grady's dog because his dog looks somewhat like a wolf and acts a bit wild too.Is it really that dog???
What I like about the story is I really love big muscular dogs and I like Wolves too so when I read this story I wanted to jump in and take the dog and train it and keep it,the story really tells you what the dog looks like and what the dog does and it tells you how Grady found the dog and how protective the dog is.
Labels: book review, goosebumps, r l stine, werewolf of fever swamp