One Day At Horrorland, by R.L Stine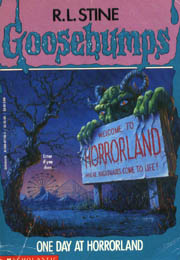 The Morris Family was going to an Amusement park but they forgot the map,so they were lost when they found Horrorland and all three of the kids wanted to go Lizzie, Luke ,and Clay,Luke's best friend. Lizzie and Luke really wanted to go I mean REALLY so they went and they got to go on any ride they wanted.They went to lots of rides and on every one of them they got really scared because the sines said the weirdest things like on a slide ride the sine said:Doom Slide.Will You Be The One To Slide Forever?and then:Warning!-You May Be The One To Slide To Your Doom!That's creepy.But will they live??
What I like about the story is I always ALWAYS want to just want to jump in the book and go with them and enjoy my frights with them (even though it's supposed to be a scary book.), like the part where Lizzie,Luke,and Clay go down the slide and find Clay missing,and the part where they go in the hall of mirrors.
Labels: book, goosebumps r l stine, one day at horrorland, review